Tagalaka man bringing power to the people
UQ people
Published 3 Nov, 2022 · 2-minute read
University of Queensland Mechanical Engineering and Commerce graduate, Ashley Hughes, is on a mission to bring clean, reliable energy to remote communities, improving their way of life while also reducing the impact on the environment.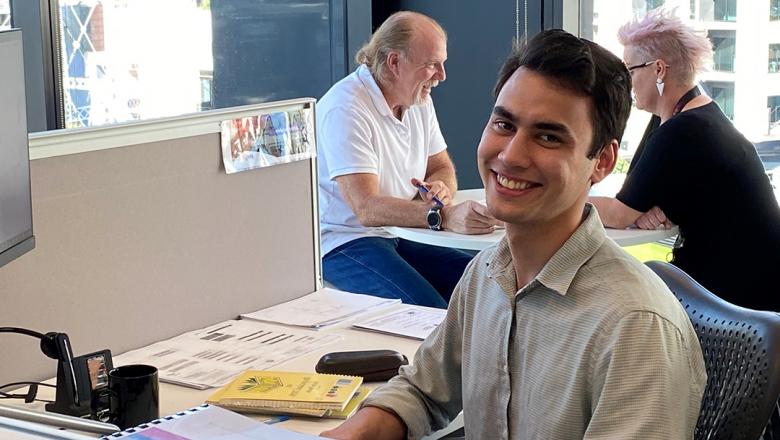 A proud Tagalaka Aboriginal man from Far North Queensland, Ashley is now working in his home region as a Cost Controller for Yurika, an Energy Queensland company.
"This work directly influences the community towns where I grew up. The current electrical system of long overland transmission lines is an inefficient and wasteful way of supplying power," he said.
"Many properties out here are also running on diesel generators that aren't connected to the grid, but new systems like wind farms, solar and especially batteries can generate and store power without damaging the environment.
"That is so important to the people out here, particularly in the Aboriginal and Torres Strait Islander communities, and will make a real difference to the way they live."
Excess renewable energy created by solar panels can be stored in batteries, which can then be used to 'help out' during demand peaks and take pressure of the electricity networks.
According to Yurika, batteries are going to play a big part in helping to energise remote Queensland communities by providing more resilience and quality of supply.
Ashley got his start with Energy Queensland following a successful internship facilitated by CareerTrackers, and has also spent time working in engineering roles to see how the new energy solutions are designed and implemented firsthand. 
Last year, Ashley designed a software tool that uses energy usage data to calculate what size battery and number of solar panels a property will need, in order to have enough power for a whole year without needing to use a diesel fuel generator to charge the battery.
"It might only be a small thing, but it will help improve the daily life for people in these communities."