Indigenous Employment Forum a great success
UQ people
Published 18 Apr, 2023 · 3 minutes
The recent Higher Education Indigenous Employment Coordinators Forum hosted by The University of Queensland fostered great discussions around the benefits and challenges of Indigenous employment and retention practices.   
The two-day event was attended by 28 representatives from 21 different institutions who shared their knowledge and experience, feedback and contributions for future Aboriginal and Torres Strait Islander employment and career development initiatives.
Professor Bronwyn Fredericks, Pro-Vice-Chancellor (Indigenous Engagement) welcomed all attendees and offered a warm Acknowledgement of Country.
This was followed by an address from keynote speaker, Professor Tracey Bunda, Professor of Indigenous Education at UQ, who provided a thought-provoking presentation on the true end goal and real value of Indigenous employment.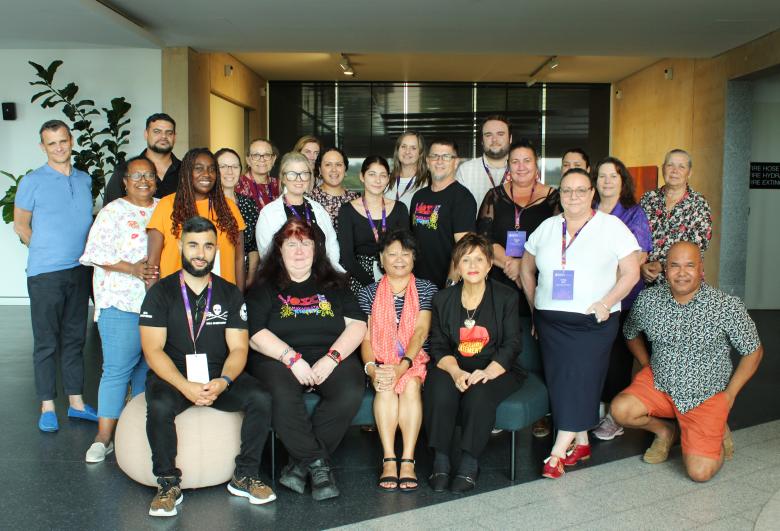 All attendees were highly engaged with participation in either the presentations or with the panel discussion where employment targets, programs, recruitment, retention, leadership, and workplace culture were key focus areas discussed.
However, the highlight of the forum for many attendees included a special yarning session with renowned singer-songwriter Uncle Kev Carmody, a UQ alum and Honorary Doctorate recipient, as well as a guided tour of UQ residence Kev Carmody House.
Among the attendees was a recent UQ graduate Manu Noney, who is also a member of the UQ Vice-Chancellor's Aboriginal and Torres Strait Islander Graduate Program.
Mrs Noney, who assisted with the event, said she was grateful to attend and described it as a valuable learning experience.
"It was wonderful to meet professionals across the sector who are dedicated to helping Aboriginal and Torres Strait Islander people," she said.
"I loved hearing such thoughtful discussions around Indigenous employment. Having these kinds of conversations across the board helps us see where we can all make improvements."